At a Glance….
Challenge
TuSimple is a technology company dedicated to advancing self-driving technologies in the commercial trucking industry. In their effort to fill the growing shortage of long-haul drivers while improving safety and efficiency, TuSimple needed to equip its fleet of autonomous semi-trucks with rugged servers capable of accurately and seamlessly processing real-time sensor, camera and radar data regardless of the ever-changing physical conditions.
Solution
Working with TuSimple, Crystal Group designed a custom autonomous vehicle computer to deliver rugged, high-performance computing for driverless trucking operations. Crystal Group customized the unit with enhanced processing power, thermal management and shock absorption that raised industry benchmarks for safety, efficiency and reliability.
Benefits
Real-time data capture and sensor fusion for accurate situational awareness
Robust, reliable compute power, storage capacity and data handling
Ability to withstand extreme environmental temperatures, shock and vibration
Advanced thermal management for seamless system operation
Compact footprint and weight
Streamlined integration with existing systems
Innovating autonomous driving for commercial trucking
TuSimple's autonomous trucking compute challenge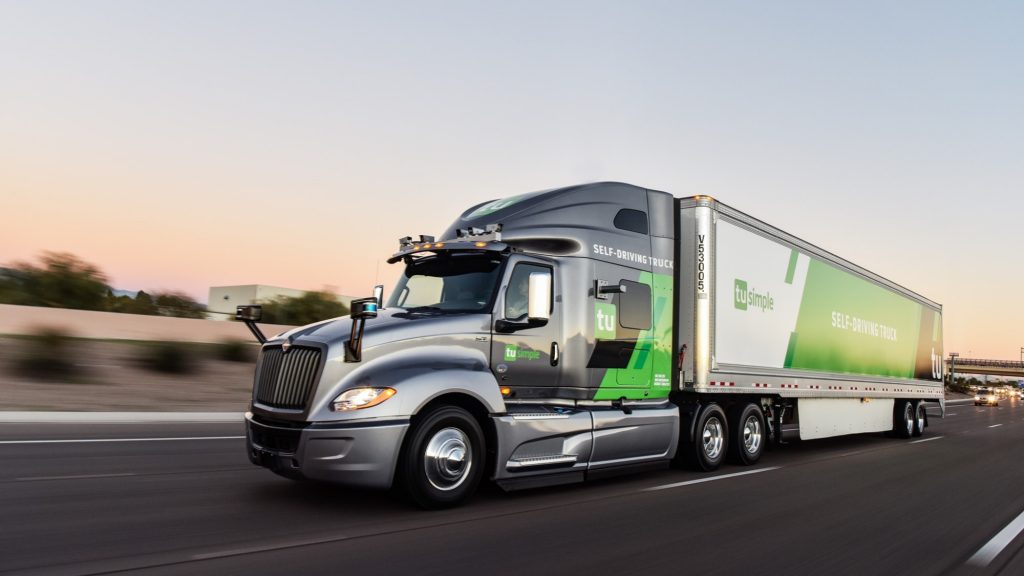 Today's trucking companies are facing a shortage of qualified drivers. This issue is compounded by the inherent
challenges of human operation — such as staying awake, avoiding distractions, and capably navigating traffic and
weather conditions — while ensuring safe, on-time delivery. By equipping semi-tractor-trailers with autonomous,
AI-enabled capabilities, TuSimple is working to alleviate the industry's human capital challenges, improve operating
efficiencies, reduce risks related to human error, and make our roads safer.
To achieve this, TuSimple required a rugged server with two GPUs to process the vast amounts of realtime data captured by the truck's network of sensors, radar and cameras that provides a full view of the operating environment
for safe, successful driverless navigation. The end solution also had to be able to manage the significant amount of heat generated by the extreme processing power and withstand extreme thermal, shock and vibration conditions incumbent to long-haul trucking.
Crystal Group's high-performing, rugged solutions
Familiar with their work in rugged autonomous vehicle technology, TuSimple worked with Crystal Group to develop a durable, high-compute solution. Initially, the Crystal Group RIA™ — Rugged Intelligence and Autonomy — solution, which is a small, lightweight unit supporting up to three GPUs and features robust I/O and liquid cooling capabilities, was deployed to sustain TuSimple's development efforts.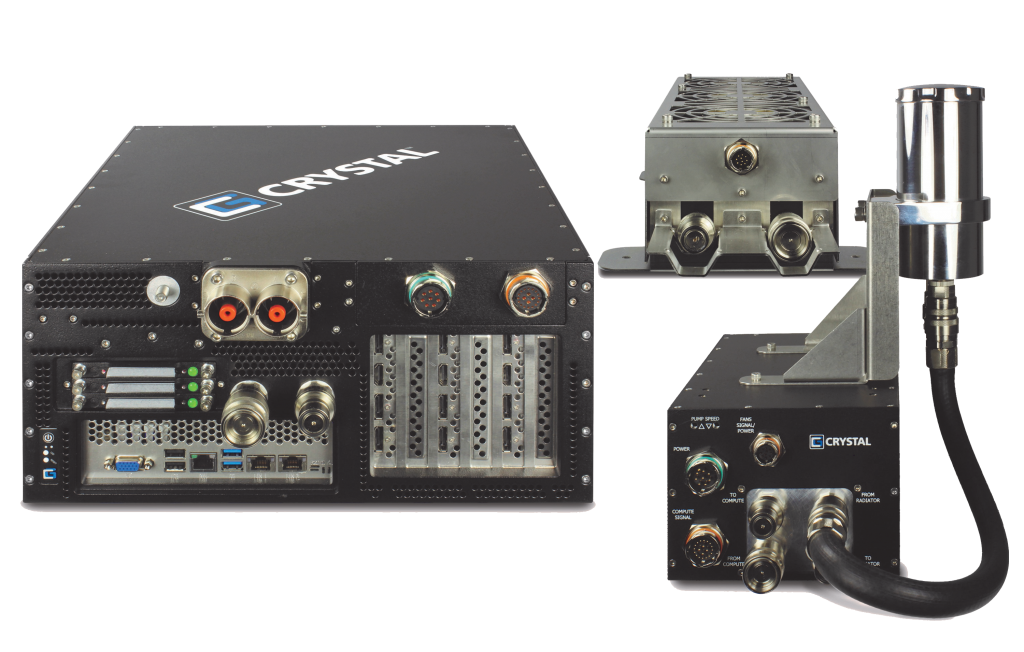 Leveraging the flexibility and availability of COTS components, Crystal Group rapidly developed a custom rugged prototype. In just five months, Crystal Group delivered the second generation AVC5904 air-cooled solution in a custom chassis that met TuSimple's desired computing and environmental requirements.
A testament to the strong partnership between the two companies was their collaboration to change the test profile for the start and end temperatures. Given the extreme nature of the starting parameters, Crystal Group worked closely with TuSimple to review multiple test profile options in order to arrive at more realistic temperature, shock and vibration parameters based on real-life operating conditions.
With more than 80 of the Gen 2 units delivered in less than 18 months, the AVC5904 server delivered the power, performance and durability required for TuSimple's autonomous long-haul trucking operations to see more, know more and react faster. Able to support up to 384GB DDR4 of memory, three GPUs, and dual Intel® Xeon® Scalable processors, the solution accelerated data collection and processing while offering robust data storage capacity. The 19" rack-mount server also offers modular, expandable components that install easily. The rugged chassis further supports safety and reliability by ensuring shock and vibration do not interfere with the critical data processing and decision making performed by the autonomous driving software.
Building on successful collaboration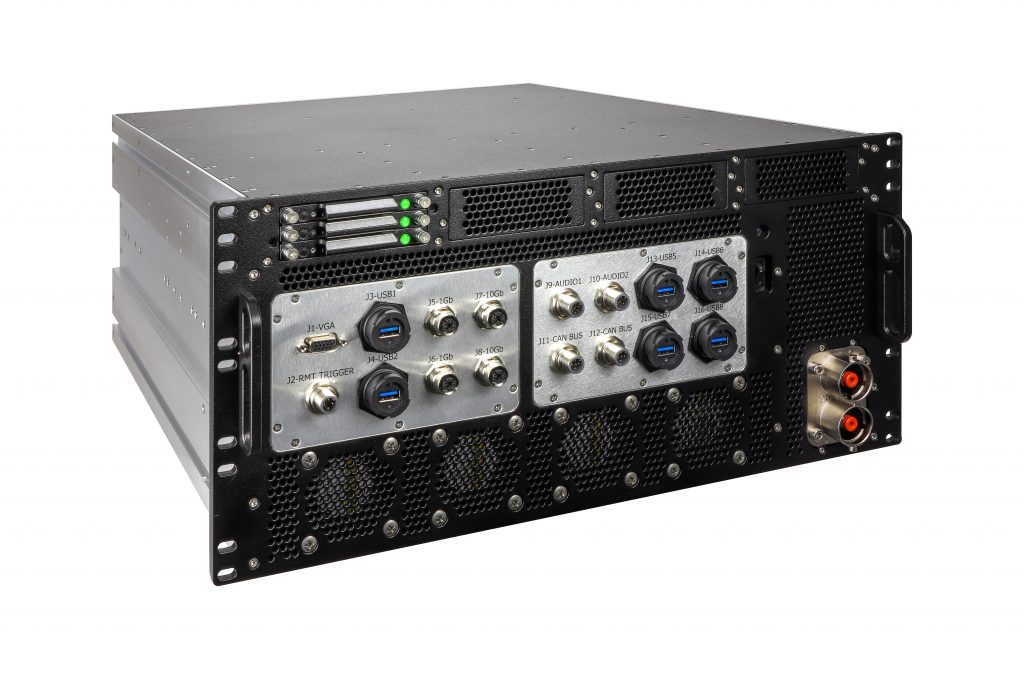 Based on the successful development and performance of the AVC5904, TuSimple and Crystal Group evaluated the results and lessons learned to refine and introduce a new Gen 3 AVC5904 system. After successful completion of TuSimple's proof of concept testing on four prototype units, Crystal Group delivered 36 of the new liquid-cooled systems in just three months. The latest Gen 3 design incorporates an expanded range of cooling to accommodate the increased power to the three GPUs while tolerating the extreme climate and conditions in the southwestern states.
This advanced level of seamless reliability is critical as TuSimple works to achieve their first Level 4 driverless runs in 2021. With onboard computing systems that can see farther than any other autonomous trucks, even in the rain and the dark, and make up to 20 decisions per second, pinpoint accuracy is a must for trusted AI performance and refinement.
As partners in innovation, TuSimple and Crystal Group are poised to transform the industry with the safest and most reliable unmanned driving systems on the road to keep the trucking industry we all rely on moving forward.