Crystal Group is Expanding
The growing support Crystal Group provides to defense, industrial, and autonomous vehicle markets will soon take place within three closely adjacent buildings totaling over 160,000 sq. ft.  The new, third building is expected to be complete in September 2018, and will be Crystal Group's corporate headquarters and primary manufacturing facility.
Quality certification requirements for ISO 9001:2015/AS9100D, as well as all other manufacturing, inspection, and test processes, fixtures, tooling, test sets, etc. will be adhered and/or transferred to the new facility.
A transition plan, including safety stock requirements and First Article Inspection, will be communicated as our new facility nears completion.
Please feel free to contact us with any questions.
Save the Date for our Ribbon Cutting Ceremony! 
855 Metzger Drive, Hiawatha, IA USA 52233
October 18, 2018 at 3:30pm
All are invited! Tours will be available after the ceremony.
For the convenience of our guests, parking will be available in our parking lot and on Metzger Drive.  On-street parking will be available only during the hours of this event (3:30pm-5:00pm) by exception from the city of Hiawatha authorities. Outside of this event, guests are asked to abide by street parking signs.
Time-Lapse of Construction
Frequently Asked Questions
Why are you moving? 
We're growing!  This new building is 111,500 sq. ft. and provides us with the additional space for increasing staff and production needed to accommodate rapid progress and an expanding customer base.
What will the new building look like?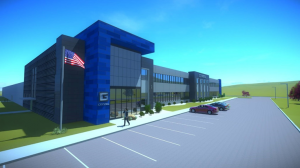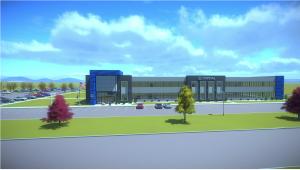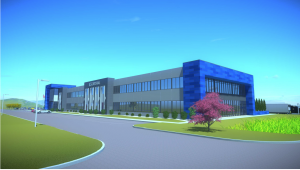 What is your new address? 
855 Metzger Drive, Hiawatha, IA USA 52233
What address should I send postal correspondence and packages/deliveries to?
Beginning October 1, 2018, please use our new address for all mailings and deliveries:
Crystal Group Inc.
855 Metzger Drive
Hiawatha, IA, USA 52233
Will any other contact information change?
No. Our phone numbers, business email address, and website URL will remain unchanged.
When will construction be complete? 
September 2018
Will you operate out of your current address and the new address? 
Yes. Our new building at 855 Metzger Drive will be home to our corporate office and our main production facility, while the Kacena Road building will become an expanded production facility. All three buildings on the Crystal Group campus will be certified to AS9100 Aerospace Standards.
How will this move impact product shipments?
We are carefully working with customers to assure timely deliveries of our products throughout the move. You can expect a high level of quality customer responsiveness before, during and after our move.
Will this move impact price? 
No. There will be no price changes because of the move.
Who can I contact with additional questions?

Program Management:
Toni Hogan, Director of Program Management, Commercial & Industrial
Email:  toni.hogan@crystalrugged.com
Phone:  +1-319-734-3263
Beth Otting, Director of Program Management, Military
Email: beth.otting@crystalrugged.com
Phone:  +1-319-200-2959
Quality Assurance (quality-related questions and requests for onsite visits):
Tony Rose, Quality Manager
Email:  tony.rose@crystalrugged.com
Phone:  +1-319-200-2961
Contracts, Terms & Conditions, Exports:
Matt Hubbell, Contracts & Export Compliance Manager
Email:  matt.hubbell@crystalrugged.com
Phone:  +1-319-734-3292
Accounts Receivable:
Benjamin Gravel, Assistant Controller
Email:  benjamin.gravel@crystalrugged.com
Phone:  +1-319-294-3451
Accounts Payable:
Tammy McAllister, Accounting Coordinator
Email:  tammy.mcallister@crystalrugged.com
Phone:  +1-319-731-3010