At Crystal Group, we ruggedize differently.

Innovative technology. Open architecture.
Crystal Group's rugged product designs represent the best service, warranty, ruggedness, performance, and configuration management in the industry.
We use materials and processes that extend the performance of commercial-off-the-shelf (COTS) products while taking advantage of innovative technology and open architecture systems.
Ultimately, we provide greater capabilities, at a lower cost, faster than our competitors.
>> Download our Current Deployments brochure [PDF]
>> Download our Capabilities Statement [PDF]
>> Crystal Product Offerings [PDF]
Chassis
Most of our competitors use thin, 16-18 ga cold-rolled steel to create chassis structures. That's fine if you're operating in a conditioned, stationary, protected environment.
Our products are constructed remarkably different:
The side walls are constructed from 0.360″-thick 6000 series aircraft aluminum, while support structures inside as well as the front and rear plates are made from milled plate stock.
Rugged server chassis
We selected thicker all-aluminum construction to limit weight, improve thermal conductivity and vibration performance, and enhance electrical conductivity (for EMI/EMP purposes).
The base plate is structurally bonded to the side walls in addition to being mechanically fastened.
The construction is designed around MIL-STD-810, MIL-STD-461, MIL-S-901D, and MIL-STD-167-1 test results.
We have been able to vibration/shock isolate key components while stiffening the structure to prevent flexure, enabling considerable vibration robustness.
Crystal Group has developed a combined 7 GRMS vibration profile for testing, which encompasses wheeled vehicles, military transports, and ship board applications in a single test.
The bottom line is the improvement in the structural stiffness allows for industry standard large ball count BGA packages on CPU cards without damaging the packages. Modifications to the COTS power supplies were necessary to get them to pass 7 GRMS vibration levels.
Thermal performance
Most servers in the industry rely solely on convective cooling (fans). This design combines convective cooling from high speed (17,000 RPM for 1U) fans with conductive cooling similar to the approach the avionics industry utilizes.
Crystal engineers converted the chassis to an all-aluminum design for numerous reasons – including heat transfer. The 6000 series aluminum material has almost twice the thermal conductivity as 1018 CR steel. By combining both the convective cooling in conventional server packaging with avionics-style conductive cooling for thermal spreading, the CPU ambient temperature range has been increased by 10°C to 20°C depending on the CPU power.
We offer a quad core Xeon design in a 1U RS chassis can easily perform to 71°C ambient with 8 instances of Prime95 running and does not exhibit throttling. We also use a great deal of custom cabling to reduce the obstructions to airflow within the unit.
High-vibration computing environments
Vibration
Hard drives which employ rotational media tend to be extremely sensitive to vibration. Most are rated at .75G to 1.2G vibration in the lower frequencies.
Crystal Group has significantly extended this performance by calculating the optimal resonance given the boundary conditions and provided sufficient sway space to include vibration isolators.
The net effect is to alter the system input energy into the device to a frequency and amplitude that does not harm the equipment. This allows the rotational media hard drives to withstand approximately 2.5G.
Crystal also uses 2.5″ SAS drives in high vibration environments and has successfully implemented these drives in a 4Grms test environments. Failure to adequately cushion the drive requires the use of solid state memory, which is obviously more expensive, but always a viable option.
Other enhancements include:
All connectors are retained either by design or by modification.
Cables are dressed and secured to prevent chaffing under extreme conditions.
All hardware within the servers is retained using a locking mechanism.
All components on the motherboard having a height-to-base ratio greater than two are staked with flexible potting compound to prevent motion and eventual lead failure in vibe.
DIMM memory modules have been locked in place by adding a foam pad to prevent relative motion.
The processor heat sinks have been attached directly to the chassis base plate to eliminate the possibility of flexure to the BGA.
Additionally in extreme vibration environments, BGA under fill adhesive has been added to the board to firmly attach the BGA. Testing has shown this under fill to provide remarkable improvements in long-term vibration resilience.
Shock threat
The main shock threat to a high performance computer system lies in the storage functions. Rotational media tends to be the weakest link in the system.
Isolating the hard drives using floating visco-eleastic medium in conjunction with an extremely stiff (i.e., high first resonant frequency) chassis aids in reducing deflections which damage the HDD platters.
Crystal Group passed MIL-S-901D grades A and B testing with such an isolation system. While this is possible with rotational media, we do recommend solid state hard drives for shock pulses over 40G, 11msec duration. A crude estimate on the 901D test levels are 800-1000G for 25msec.
The next area of concern is the power supply which typically contains heavy toriods, transformers, and heatsinks. These items are modified in the Crystal server to survive high G shock and vibration loads with a 901D kit if you choose to implement. Test reports are available from your business development manager.
Noise
Structure-borne noise in Crystal chassis' is limited by way of the construction technique. This is an unintentional benefit of designing for high-vibration, high-thermal ambient conditions.
Essentially structural noise is limited by increasing the resonant frequency of the chassis to a level that is insensitive to exterior excitation. By this we merely mean the chassis, cover, base, sides, brackets, etc are significantly stiff requiring large amplitude, high frequency excitation to be detectable by man or machine.
This is accomplished by using very thick sections for the side rails (0.360″), front and rear end plates (0.375″), and center brackets/braces (0.187″) with screws attaching these structural components every 2.
Noise reduction
The base, sides, center braces, and front and rear plates are also adhesively bonded using a hi-temperature structural epoxy designed for this application.
The net result is a robust server that not only survives high vibration and shock, but also doesn't rattle when subjected to external excitation.
Acoustical noise is merely balancing the fans to limit the amplitude of emissions.
The structural borne noise is related to limiting vibrations that are transferred through the chassis from the fans and the power supply.
These characteristics are critical in sub-surface Navy operations.
Crystal can customize an application to use very low noise fans without significantly sacrificing thermal performance to reduce the noise. Recent testing on our 3U rugged product indicated a worse case output of less than 40 dB at 1 meter for a US Marine application.
Additionally, Crystal can detune the fans to operate at slightly different frequencies to limit noise output further reducing the acoustical signature of the server using a acoustic noise kit by adding an in-house thermal fan controller module which reduces fan RPM/noise as a function of temperature.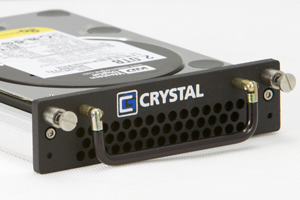 Electromagnetic Compatibility
All of Crystal Group's RS chassis have been designed to pass MIL-STD-461E and F with the proper filtering kits installed. Crystal uses spread spectrum clocking technologies to provide additional margin for compliance as well as specific shielding and filtering techniques to meet these requirements.
Electromagnetic compatibility
Crystal Group designed the chassis to from 6061T-651 aluminum and coated it with a trivalent chromate, which maintains the electrical conductivity of the chassis, thereby creating low impedance interfaces. Additional corrosion protection can be obtained using eNi plating if necessary.
An underlying objective in EMI suppression is to maximize very low impedance grounding around the perimeter of covers. Spacing between fasteners are considered slit antenna radiators if there is not a metal to metal low impedance path. This also requires that overlapping seams be included in the design.
The only approach to solving the problem is few gaps with low impedance short to ground in the EMI circuit. This design limits gaps and reduces contact resistance by utilizing adequate screw spacing to prevent radiated emissions.
Additionally the compartmentalization of the interior components (hard drive, CD ROM, Power supply, CPU) using thick aluminum interior bracing helps to constrain emissions. Custom filtering on the input side of the design manages the conducted emissions.
Test reports are available from your business development manager.
Processor and memory


Platinum-Provider-logo-for-Web-2vx3sg.pngCurrently Crystal is producing 1U, 2U, 3U, 4U, and 5U rugged servers with various configurations. The design accommodates ATX and eATX motherboard formats with dual LGA1366 (Nehalem & Westmere Class), LGA2011-2 (Sandy Bridge & Ivy Bridge) and LGA2011-3 (Haswell & Broadwell) options, with up to 1TB Register RAM.
Warranty options
When you purchase a complete, integrated system from Crystal Group, it leaves our facility with a full, standard five-year warranty.
Crystal Group also offers extensions to the standard warranty program which may be purchased and go into effect the first day after the original warranty period expires. Up to ten additional standard warranty years are available for purchase.
If you're looking for more hands-on help, Crystal Group's Gold Service can be added to our standard warranty.