Small form factor rugged embedded computer in a carbon fiber chassis
Hiawatha, IA – Crystal Group Inc, an employee owned small business, designer and manufacturer of rugged, commercial-off-the-shelf (COTS) custom-developed computers, displays, switches, and storage devices is pleased to announce the newest addition to the Crystal Group product family, the RE0412 Rugged Embedded Computer – housed in a first-of-its-kind carbon fiber chassis (patent pending).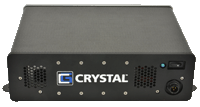 In environments where performance, ruggedness, and reliability are imperative, the RE0412 is an ideal fit. This rugged embedded carbon fiber chassis computer is designed for airborne and ground mobile applications where significant processing power is required in a light-weight and rugged package.
The carbon fiber RE0412 chassis measures 3.13″H x 10.76″W x 8.13″D and weighs a mere 3.8 pounds fully loaded with up to two 2.5″ solid state drives, a PCIe x16 expansion slot, and up to 16GB DDR3 RAM. The RE0412 features an Intel® mini-ITX board, i3 (Desktop) CPU, DC power inputs from 18-36VDC, a single (80Khr MTBF) cooling fan for air over components cooling architecture and has conformal coating options for humidity protection.
Extensive thermal design enables -40C to +55C operation with full CPU load, without throttling. MIL-STD-810 vibration and shock performance testing is underway, followed by MIL-STD-461 CE102 and RE102 testing. The full complement of I/O makes the platform ideal for general purpose processing in the field.
"The RE0412 is a product that came out of the UAV and soldier deployed markets. The emphasis was on light weight and low power," stated Jim Shaw, Crystal Group's Executive Vice President of Engineering. "Since we developed the product we are seeing a significant amount of interest in the ground vehicle market due to the extreme thermal performance and durability."
As always, each Crystal product comes with a standard three-year warranty. On-site, next day and extended warranties are available. Configuration Management is also available upon request.
For more information, contact Crystal Group today.