HIAWATHA, IOWA—APRIL 16, 2020—Crystal Group, a leading designer and manufacturer of rugged computer and electronic hardware, announced today the National Information Assurance Partnership (NIAP) Common Criteria certification of its rugged firewall. Achieving NIAP approval represents a significant milestone in tactical cybersecurity proving the firewall's effective layer of protection for networked communications in multiple harsh domains.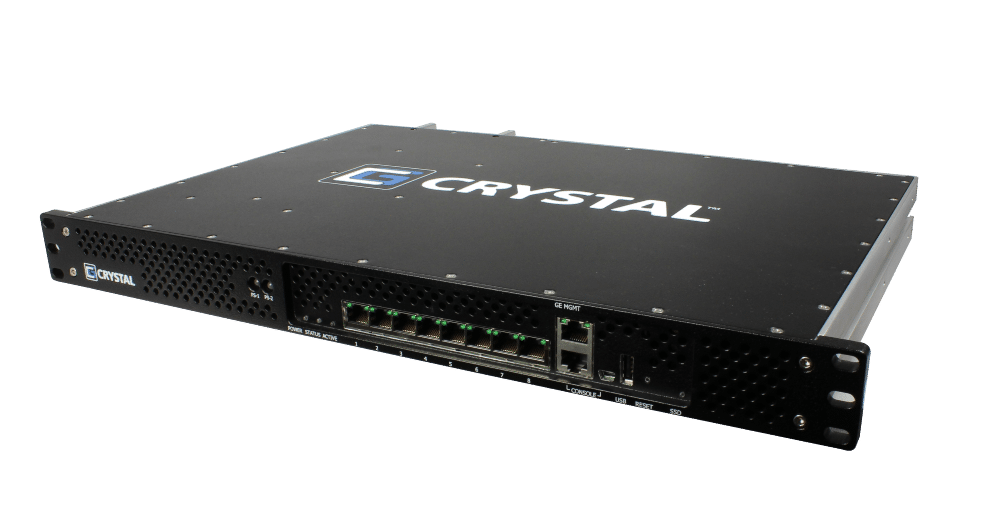 The RCS5516FW purpose-built, VPN-capable firewall provides both rugged and critical cybersecurity defense needed for seamless, high-performance networking in unpredictable forward-deployed environments. Built to withstand extreme temperatures, moisture, shock, vibration and other challenging conditions, the NIAP-certified solution provides unmatched versatility, industry-leading technology and reliable protection of critical networks in a rugged form factor.
"Crystal Group's rugged firewall is supply chain-secure, made in the U.S. and safeguards against malicious tampering. As our nation's warfighters defend homeland security, this firewall safeguards the networks they rely on for situational awareness, missile defense and countless other mission critical functions," said Todd Prouty, business development manager at Crystal Group. "We're proud to have reached the NIAP milestone in our ongoing commitment to provide our soldiers, sailors, airmen and Marines with advanced cyber-secure capabilities."
Crystal Group is a long-trusted and designated mission-essential partner of the U.S. Department of Defense and other U.S. government entities. Crystal Group's offerings, which also include an optional NIAP-certified IPsec module on their RCS7450 rugged switch, are employed across hundreds of defense programs and countless applications supporting critical infrastructure, transportation and other key U.S. industries and sectors.
NIAP, established by the National Security Agency and the National Institute of Standards and Technology, is the governing U.S. body within the Common Criteria Recognition Arrangement (CCRA), a 31-country consortium serving as the most widely recognized, global standard for IT security.
About Crystal Group, Inc.
Crystal Group is a technology leader in rugged, high-performance computer hardware; specializing in the design and manufacture of rugged servers, embedded computers, networking devices, displays and data storage for high reliability in harsh environments. An employee-owned and operated small business founded in 1987, Crystal Group provides the defense, government, commercial and industrial markets with in-house customization, engineering, integration, configuration management, product life-cycle planning and support services.
Crystal Group products meet or exceed IEEE, IEC and military standards, including MIL-STD-810, 167-1, 461, and MIL-S-901, are backed by an industry-leading, 5-plus-year warranty with in-house support, and are manufactured in the company's Hiawatha, Iowa, USA, facility certified to ISO9001:2015/AS9100D quality management standards.
© 2020 Crystal Group, Inc. All rights reserved. All marks are property of their respective owners. Design and specifications are subject to change.