Rugged construction. Solid security. Crystal Group Platform Agnostic Security Solutions (PASS), because failure is not an option.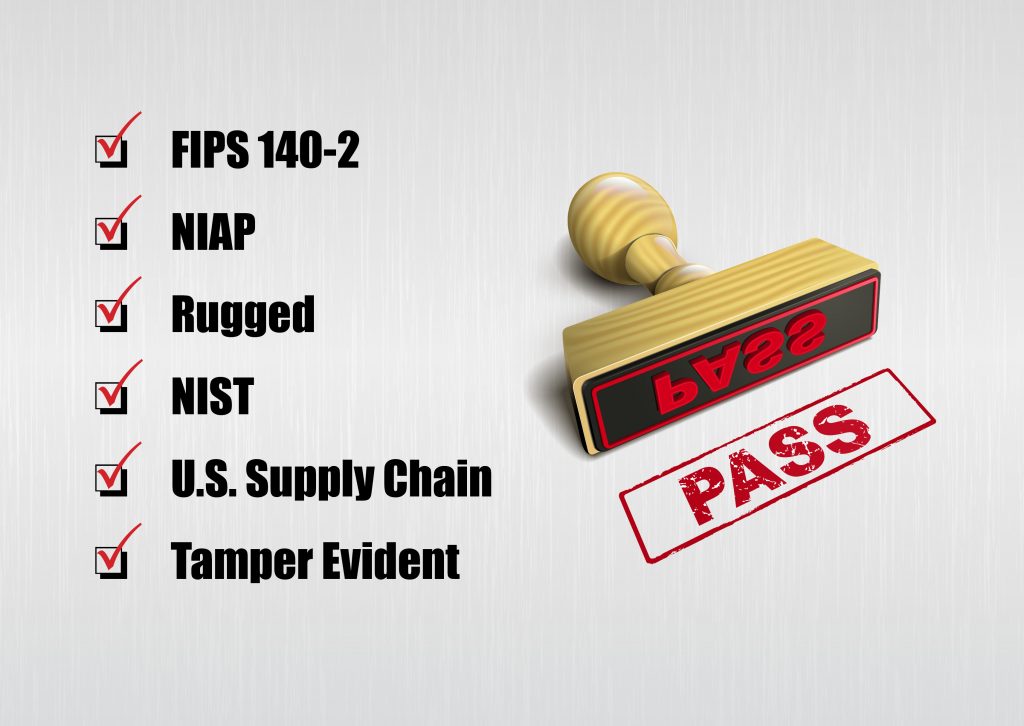 The Crystal Group PASSTM portfolio offers rugged compute, networking, and data storage equipment engineered to protect critical systems and data against harsh environments – including dust, sand, water, temperature extremes, shock and vibration – and cybersecurity threats.
Crystal Group PASS rugged hardware with enhanced cybersecurity protection:
Crystal Group PASS features the world's first rugged FIPS 140-2 compliant data-at-rest storage devices with exclusively conformal-coated Seagate 2.5-inch, dual-port SAS drives compatible with any Crystal Group server, workstation, and JBOD or RAID storage system. Crystal Group rugged switches include NIAP-certified, IP-security modules for network encryption.
Crystal Group's encryption-based cybersecurity protection is built using the TPM technologies with Intel® processors and chipsets to guard sensitive data-at-rest.
Crystal Group is serious about security, and:
meticulously manufactures its field-tested, combat-proven products in vertically integrated NIST-compliant, AS9100D-certified, U.S.-based facilities;
carefully scrutinizes raw materials, components, staff, and suppliers to ensure a secure, quality chain of custody and help prevent security vulnerabilities; and
maintains a system for the management and control of Government property in accordance with Federal Acquisitions Regulation (FAR), 52.245-1 and the Defense Federal Acquisition Regulation Supplement (DFARS).
Crystal Group PASS provides the platform for enhanced protection from threats. From hurricanes to hackers, Crystal Group has security covered.
Protect critical systems and data at rest from cyber threats, harsh elements, and extreme environments with Crystal Group PASS. Contact Crystal Group to request more information, to discuss specific system requirements and program needs, and to receive a quote.
"Crystal Group makes an exceptional product (s). They are very responsive to the needs of their customers."
"My customer wanted Crystal's product. Was a win-win. Great product and great customer service."
"Crystal produces top quality rugged servers and has an excellent track record for customer service."
"We like the personal responsibility people take. It's refreshing."
"All the folks at Crystal Group who played a role in delivering an Intel server to us, showed an exceptional amount of creativity and teamwork."
"Props to Crystal Group for making me a happy customer!"
General Dynamics C4 Systems
"The service I receive is fantastic. We are always asking for rushed quotes and expediting orders and Crystal Group always comes through for us. I am completely satisfied with Crystal Group so keep up the good work!"
MDA MacDonald, Dettwiler and Associates Ltd
"Great service, support and you delivered what you promised on time. Your servers have not given us any problems, and we have had them for over two years now."
U.S. Department of the Interior
"Customer service is excellent, like the feed-back-loops built into the service."
"The Crystal team has provided outstanding service to my team at Lockheed Martin. I'm extremely impressed with your prompt customer service. Crystal strives to achieve common goal of providing excellent customer service and quality products to the end user."
"Quick response, provides accurate data, works well with customer requirements."
"I have been very impressed with Crystal's customer support."
Sandia National Laboratories
"Crystal stepped up and delivered us several rugged servers when we were in a time crunch as another supplier was not making deliveries on time. Crystal has continually accommodated our last-minute purchase requests and has VERY good customer service."
"Crystal has been excellent in addressing our concerns and addressing our custom configuration requirements."
General Dynamics Mission Systems
"We chose Crystal because you have the best server in the market and outstanding customer service"
Raytheon BBN Technologies
"We build systems that run in the most rugged of environments and require the latest hardware. Crystal is the only place to come when you need both."
"Crystal Group has worked with our subcontracts department to remove cost from the products we purchase, as well as making sure the quality is exactly what we want."
"Solid products, great customer support, superb CM."
Newport News Shipbuilding - a division of Huntington Ingalls Industries
"Of the many vendors I work with Crystal always makes it easy for me to meet my requirements. A company that thinks outside the box!"
"Crystal Group customer service has always been outstanding... keep up the good work!"