By Chad Hutchinson, PE, Director of Engineering
The proliferation of sensors, data and connected devices has transformed military operations, from bases at home to post, camp and station. It's also dramatically changed the once disconnected tactical edge—where every second counts and in theater requirements and conditions put technology to the test.
Today we have an Internet of Battlefield Things, where critical data—particularly video—demands rugged technology that provides high-speed processing and data transfer yielding actionable intelligence. Accelerating decision-making speed is more than an amenity; without it, we risk losing both our competitive advantage and the fight.
As ultra-secure 5G emerges into the tactical edge and the use of AI in battle becomes the norm, the speed of the fight will surpass the time required by a traditional chain of command. That means troops on the front lines, often junior service members, will need to be empowered to assess, act and adjust on the fly, according to the Department of Defense's top AI official, Air Force Lt. Gen. Jack Shanahan, director of the Joint Artificial Intelligence Center.
Meeting these requirements means industry must also transform how it delivers the technologies and capabilities that enable tactical-edge AI. No longer will large CPUs and other sizeable, power-hungry hardware meet the military's data-processing and decision-making needs. The tactical edge demands right-sized compute capabilities that are light on power and weight, but capable of withstanding extreme conditions and form factors that fit in a shoebox.
We see promising developments, such as Crystal Group's newest rugged embedded computer with 16-core Xeon® D platforms.  Equipped with Intel® NNP-I accelerators, 30 terabytes of storage and six 10GbE ports, this compact but mighty solution weighs less than 10 kilograms and MIL-STD-1275 compliant. Intel's new Keem Bay Nervana next-generation vision processing unit will also compound performance ten-fold over the first generation version, while only using a fraction of the power once required.
It's an exciting future ahead. Imagine drone data collection at the tactical edge, rapidly delivering critical situational awareness that's been optimized to provide the most relevant, actionable information. In the moments between collection and delivery to troops' fingertips, that data has already been sorted, processed and sharpened for the specific mission at hand—all at machine speed. The reality is that future is almost here, with some of these capabilities already deploying on vehicles in the field.
The generation of data and the need to process, interpret and disseminate it quickly as actionable intelligence will only continue to grow. So must the technologies the military relies on industry to develop and provide. That's a mandate we take seriously as we continue to push the boundaries of what's possible and deliver crucial, mission-ready capabilities wherever in the world they are needed—including the tactical edge.
About the author: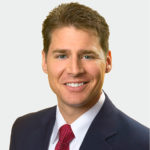 Chad Hutchinson joined Crystal Group in August 2011 where he is responsible for the project management, design, prototype construction, qualification and testing of ruggedized commercial-off-the-shelf electronics (e.g., servers, displays, routers, and switches) and custom electrical/electronic components (e.g., power supplies, communication circuits).
Chad holds a Bachelor of Science in Electrical Engineering from Iowa State University, a Master of Engineering Management from Old Dominion University, and a Master of Nuclear Engineering from the Bettis Reactor Engineering School (U.S. Navy).  He is also currently licensed as a Professional Engineer (Iowa, Virginia).
Prior to joining Crystal Group, Chad served on active-duty in the U.S. Navy as a lead electrical systems engineer & project manager at NAVSEA-08K/Naval Reactors and supervised engineering projects, component programs, and predictive maintenance in the commercial nuclear industry. In August 2018, Chad retired as Commander, U.S. Navy, after 26 years of service.