By Jim Shaw, Executive Vice President of Engineering
Across the Department of Defense, technologies critical to protecting and executing troops' vastly ranging operations are vulnerable to advancing cyber threats. This shifting reality has military leaders scrambling to retrofit their existing hardware with cybersecure capabilities.
However, there is good news. The growing availability of cybersecurity tools means that with the right expertise and engineering know-how, integrating commercial cybersecurity into existing military infrastructure doesn't have to be a fire drill. Instead, it can be addressed by adding layers that better fortify key elements and thwart evolving threats.
Military operators charged with running anything from ground vehicles to shipboard systems to airborne platforms today risk encountering countless malicious and calculated threats. But among all the potential risks, there are three that present particular challenges:
Unauthorized entry or tampering of compute and storage equipment
Escalating requirements for higher levels of data encryption
Ensuring stronger protection of data in transit and at rest
As the designer and manufacturer of rugged compute, storage and networking equipment for the military, Crystal Group can seamlessly incorporate intrusion detection features, instant data destruction and ruggedized component options to prevent breaches to the physical hardware that stores and processes sensitive data.
The growing need for progressively stronger encryption—especially to ensure warfighters have real-time access to actionable data in volatile, forward-deployed environments—requires better software protection as well. Making that happen hinges on increasingly diverse technologies and partnerships with top software and component providers. These partnerships play a major role in delivering solutions that are rugged, secure and meet multilevel encryption requirements for military data in the field.
One example of that is our partnership with Seagate, through which Crystal Group exclusively provides the world's first rugged, accredited, data-encrypted SAS solid state drives for secure data storage at the tactical edge. And with an entire portfolio of flexible security features available at the base CPU level, for trusted platform module add-ins, and on tamper-resistant hardware, we're able to create a vault of safe tactical computing. Combining those solutions with TCG Opal drives compliant with FIPS 140-2 and NIAP requirements—and enhanced with multiple levels of security measures—effectively bullet-proofs the entirety of the security stack.
Offering an entire portfolio of solutions that protect against multifold threats more easily connects military operators with integrated, certified tools and services through a single supplier. This allows them to meet their component requirements for both physical and computing reliability and security without the hassle and uncertainty of patchworked solutions from multiple providers. In today's harsh, constantly changing tactical landscape, a fully integrated cybersecurity foundation is an invaluable necessity.
About the author: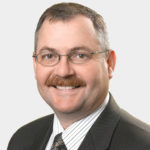 Jim Shaw joined Crystal Group in January 2006 as Vice President of Engineering; in 2011, Jim was promoted to Executive Vice President of Engineering. Jim has responsibility for guiding the Engineering department and is the leading member of the product development team. Jim also provides direction as the Quality Management Representative for Crystal Group.
Jim's innovative design prowess led to the birth of the rugged series (RS) chassis for the military and industrial computing markets. During Jim's tenure at Crystal Group the company has expanded its product lines into storage, displays, rugged switches, and custom power supply designs.
Jim holds a Bachelor of Science degree in Mechanical Engineering from Iowa State University and a Masters of Business Administration from the University of Iowa. Prior to joining Crystal Group, Jim held a management position in engineering at Rockwell Collins, located in Cedar Rapids, Iowa. During his time there, he was honored three times as one of Rockwell Collins' Engineer of the Year nominees for his work in high performance electronics packaging. He has authored or co-authored ten international patents.