By Scott Kongable, President of Crystal Group Inc.
The Terminal High Altitude Area Defense (THAAD) missile defense system has successfully intercepted its first intermediate range ballistic missile (IRBM) target, U.S. Missile Defense Agency (MDA) officials confirm.
Officials say the test, designated Flight Test THAAD (FTT)-18, has been planned for months, but it's no secret the U.S. is bolstering its missile defense operations amid growing missile threats in North Korea and other countries around the globe. On 4 July 2017, Independence Day in the U.S., the Pentagon confirmed that North Korea launched an intercontinental ballistic missile (ICBM), a long-range guided missile primarily designed to deliver one or more thermonuclear warheads.
THAAD shot down a simulated IRBM target launched from the Pacific Spaceport Complex in Kodiak, Alaska, on 11 July 2017. MDA, the Ballistic Missile Defense System Operational Test Agency, and U.S. Army soldiers of the 11th Air Defense Artillery Brigade from Fort Bliss, Texas, conducted the intercept test of THAAD, an integral part of the U.S. Ballistic Missile Defense System (BMDS). The U.S. Army, Joint Forces Component Command for Integrated Missile Defense, U.S. Air Force, U.S. Coast Guard, Pacific Spaceport Complex Alaska (PSCA), Ballistic Missile Defense Operational Test Agency, Department of Defense (DoD) Operational Test and Evaluation, and the Army Test and Evaluation Command provided support.
During the test, a U.S. Air Force C-17 Globemaster III, a large military transport aircraft from Boeing, air-launched a ballistic missile target over the Pacific Ocean north of Hawaii. A THAAD weapon system at PSCA in Kodiak, Alaska, then detected, tracked, and intercepted the threat-representative IRBM target.
It's evident the U.S. is readying the BMDS and other elements of the Command and Control, Battle Management, and Communications (C2BMC) program, which networks, integrates, and synchronizes autonomous sensor and weapon systems and operations for a layered missile defense capable of responding to threats of all ranges in all phases of flight. System ground and flight tests, including FTT-18, go a long way in verifying and exercising current and future BMDS capabilities.
"This test further demonstrates the capabilities of the THAAD weapon system and its ability to intercept and destroy ballistic missile threats. THAAD continues to protect our citizens, deployed forces and allies from a real and growing threat," MDA Director Lt. Gen. Sam Greaves said of the test.
This new test marks the THAAD weapon system's 14th successful intercept in 14 attempts. THAAD brings a globally-transportable, rapidly-deployable missile defense capability to intercept ballistic missiles inside or outside the atmosphere during their final, or terminal, phase of flight. The system's hit-to-kill technology uses kinetic energy to destroy incoming targets.
MDA officials anticipate deploying 50 THAAD weapon systems through September 2018. Crystal Group applauds everyone involved in the historic test of this innovative, high-tech defense system, and is proud to be part of the Lockheed Martin-led team behind the U.S.-built THAAD.
About the Author: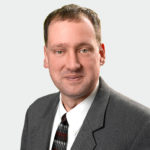 Scott Kongable is the president of Crystal Group. He joined the company in 1998 as the Director of Engineering, becoming the president in February 2003. In this capacity, he is responsible for the general supervision and control of the company's business and affairs.
Scott holds Bachelor of Science degrees in mathematics and statistics from Iowa State University and a Masters in Business Administration from Nova Southeastern University. Prior to joining Crystal Group, he spent ten years in various engineering functions with Rockwell-Collins; most recently as a project engineer in their military Global Positioning System business area.
Scott is an American Society of Quality Control Certified Reliability Engineer and Certified Quality Engineer. In addition, he is a member of the Project Management Institute as well as the Armed Forces Communications and Electronics Association.