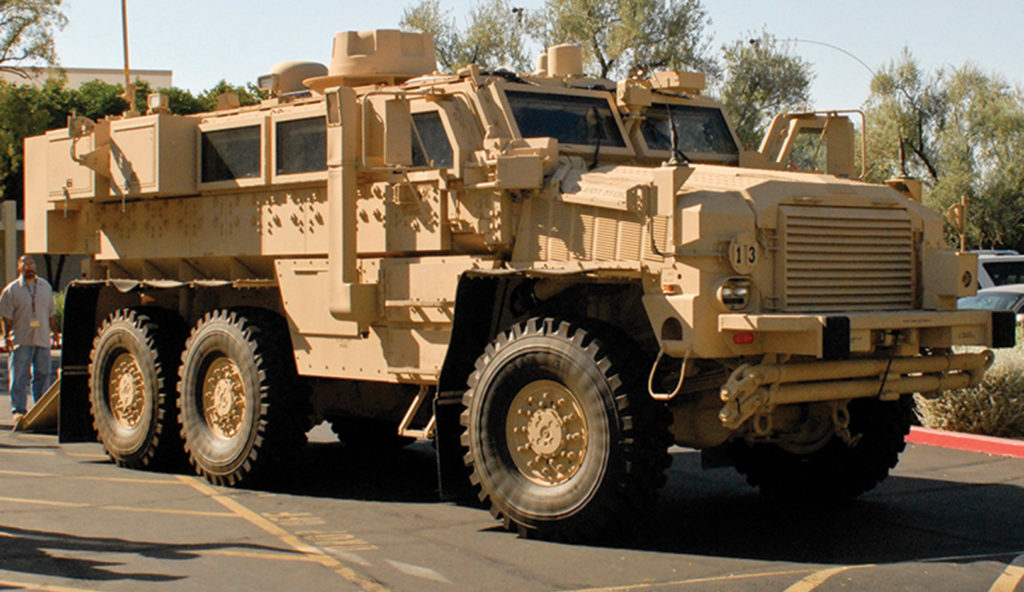 Prophet provides the tactical commander with an enhanced capability for electronic intelligence preparation of the battlefield, battlespace visualization, target development and force protection. Crystal Group's RS112 1U rugged served located inside Prophet vehicles provides data analysis and other tasks in a battlefield environment.

Battlefield Challenge
Information on the battlefield changes rapidly. A key element in the U.S. Army's combat zone mission is to provide field commanders with the ability to disrupt enemy operations, protect friendly forces while operating under an information assurity protocol. The Prophet system is specially designed to meet these mission challenges with a near-real-time picture of the battlespace through the use of signal intelligence sensors and high performance computing.
General Dynamics C4 Systems serves as the prime contractor and system integrator to upgrade the Prophet tactical signals intelligence systems. Upgrade components for Prophet require smaller, lighter weight and less power-hungry battle hardened servers to provide integrated electronic attack capability and the ability to process quickly changing communications data. The requirements also meant making the system compatible with a new fleet of battle area vehicles as well as mobile man-carried units.
Crystal Group Solution
Crystal Group's RS112 1U rugged server was selected for the program and upgrade stages (Spiral 1 and Prophet Enhanced – POR-A, POR-B) for its superior ruggedness, configuration management capability, compute density dependability and the company's customer responsiveness.
RS112 1U meets MIL Standard 810's stringent environmental requirements with a lightweight aluminum chassis in a 20" depth. The unit is designed for Size, Weight, and Power (SWaP)-sensitive mobile, ground, manned or unmanned vehicle applications. The RS112 1U rugged server features one expansion slot, two drive bays and leading edge Intel® Sandy Bridge, or Ivy Bridge CPU options. The system's modularity allows for easy reconfiguration and versatility.
The rugged server is hard mounted in Prophet vehicles or can be packaged in transit boxes that allow for quick installs.

Customer Benefits
Crystal Group worked closely with General Dynamics' engineering team to understand their needs and those of the Army. This teaming resulted in a rapid response to the Army's requirements and improved product integrity.
"Crystal Group was the spark behind our up-gunned (modified) server and server capability module upgrade," said Terence Winn, General Dynamics C4 Systems' Prophet Program Manager. "This capability has had a very positive impact on our system performance and more importantly, our customer relationships with the Army. Crystal Group delivered 100% of their commitments on-time and with superior quality."


The RS112 1U rugged server meets MIL STD 810 for shock, vibration, and temperature limits.

The RS112 Rugged 1U Server is designed in accordance with MIL Standards 810, 167-1 and MIL-S- 901.  With a lightweight aluminum chassis and a 20" depth, the unit is optimally designed for SWaP-sensitive applications. The RS112PS18M Rugged 1U Carbon Fiber Server offers additional weight savings and a reduced 18" depth.
Both rugged servers feature one expansion slot and leading edge Intel® CPU options. The systems' modularity allows for easy reconfiguration and versatility. The units provide less weight, less power consumption, and a smaller size that conforms to flexible architecture configurations.
In addition to the rugged servers, Crystal Group supplied the RD1119 Rugged Display for non-flight operational duty. The RD1119 features a 19" display in EIA 1U drawer with SXGA resolution. The LCD display offers 1,000 nit light intensity, low reflectance screen, high ambient contrast and full color.  A special cover glass screen provides high transmissibility and low reflectance to improve sunlight readability.
About Crystal Group
Crystal Group Inc., an employee-owned small business located in Hiawatha, Iowa, USA, designs and manufactures deployment-ready, rugged servers, displays, networking devices, embedded systems, and storage devices that fit mission critical and industrial applications. Crystal Group's rugged servers and electronic devices are powerful solutions ready for future expansion whether it's for a more versatile software application, harsh environment, or demanding performance standard.