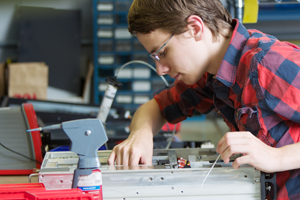 Five years, 24/7/365
If you experience a problem with your system, just call our Technical Services Center at 800.378.1636 and we'll take care of the rest. Our team is available 24/7/365 to resolve any questions or concerns you might have about your Crystal Rugged products.
If you are unsure about when your original warranty expires call us or simply request that a Tech Services representative give you a call. We will contact you by the next business day with the program specifics.
Standard Warranty
When you purchase a complete, integrated system from Crystal Group, it leaves our facility with a full, standard five-year warranty (effective January 1st, 2014):
24/7/365 technical support
Five-day depot repair – our average repair time is 48 hours
Customer pays for unit to be shipped to Iowa headquarters; Crystal Group pays shipping back to customer site
Crystal Group also offers extensions to the Standard Warranty program which may be purchased and go into effect the first day after the original warranty period expires. Up to 10 additional Standard Warranty years are available for purchase.
Supporting Our Customers
"Crystal produces top quality rugged servers and has an excellent track record for customer service."
"All the folks at Crystal Group who played a role in delivering an Intel server to us, showed an exceptional amount of creativity and teamwork."
"My customer wanted Crystal's product. Was a win-win. Great product and great customer service."
"The Crystal team has provided outstanding service to my team at Lockheed Martin. I'm extremely impressed with your prompt customer service. Crystal strives to achieve common goal of providing excellent customer service and quality products to the end user."
"Crystal Group has worked with our subcontracts department to remove cost from the products we purchase, as well as making sure the quality is exactly what we want."
"Crystal has been excellent in addressing our concerns and addressing our custom configuration requirements."
"Crystal Group makes an exceptional product (s). They are very responsive to the needs of their customers."
"Crystal Group customer service has always been outstanding... keep up the good work!"
General Dynamics Mission Systems
"We chose Crystal because you have the best server in the market and outstanding customer service"
"Solid products, great customer support, superb CM."
Sandia National Laboratories
"Crystal stepped up and delivered us several rugged servers when we were in a time crunch as another supplier was not making deliveries on time. Crystal has continually accommodated our last-minute purchase requests and has VERY good customer service."
Raytheon BBN Technologies
"We build systems that run in the most rugged of environments and require the latest hardware. Crystal is the only place to come when you need both."
General Dynamics C4 Systems
"The service I receive is fantastic. We are always asking for rushed quotes and expediting orders and Crystal Group always comes through for us. I am completely satisfied with Crystal Group so keep up the good work!"
U.S. Department of the Interior
"Customer service is excellent, like the feed-back-loops built into the service."
Newport News Shipbuilding - a division of Huntington Ingalls Industries
"Of the many vendors I work with Crystal always makes it easy for me to meet my requirements. A company that thinks outside the box!"
"I have been very impressed with Crystal's customer support."
"Quick response, provides accurate data, works well with customer requirements."
MDA MacDonald, Dettwiler and Associates Ltd
"Great service, support and you delivered what you promised on time. Your servers have not given us any problems, and we have had them for over two years now."
"We like the personal responsibility people take. It's refreshing."
"Props to Crystal Group for making me a happy customer!"