Hiawatha, IA, USA, October 26, 2017 – Crystal Group, a leading designer/manufacturer of rugged and reliable computer hardware, will be exhibiting its comprehensive portfolio of solutions – including its new FORCE Rugged Server line – for intelligence gathering, surveillance, and reconnaissance operations at the AFCEA TechNet Asia Pacific Conference & Expo 2017, Hilton Hawaiian Village, Honolulu, Hawaii, October 31 – November 2, at booth 517.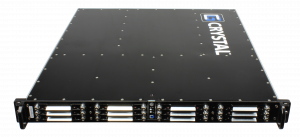 Crystal Group FORCE™ RS1104 Rugged Server is a 1U, 19" deep, air cooled server that features power options of 460WAC or 505WDC at 18-36V. Additional FORCE 1U solutions offer choices of air and liquid cooling options. Crystal Group FORCE solutions are SWaP optimized and available in 1U, 2U and 3U rack unit sizes.
Crystal Group's new Fully Optimized Rugged Computer Equipment (FORCE) are rugged rack-mount servers that combine the latest Intel® Xeon® Scalable Processors with high-speed networking, enhanced I/O, platform security, and thermal management in a modular, customizable high-performance computing (HPC) system to bring unprecedented processing power and flexibility for extreme environment operations.
Crystal Group FORCE Rugged Servers are offered with single or dual Intel Xeon Scalable Processors, each supporting up to 24 cores and 48 PCIe lanes to provide a substantial boost in compute capability. The Intel Advanced Vector Extensions 512 (AVX-512) ultra-wide vector processing accelerates repetitive tasks. The Platform Controller Hub (PCH) offers 10 Gigabit Ethernet (10GbE) ports for high-speed communication, up to 14 SATA 3 ports for expanded storage capacity, and QuickAssist Technology (QAT) for enhanced security, authentication, and compression.
The newly designed, lightweight chassis in 1U, 2U, and 3U sizes with 19-, 22-, and 25-inch depths, with a choice of ATX or eATX motherboard, and air- or liquid-cooled thermal management. FORCE Rugged Servers offer a wide variety of front-end configuration options, including serial and USB ports, 2.5-inch drives, CMOS battery, pump assembly for liquid cooling, circuit breaker, card reader, USB sound card, sanitize button for security, DVD, and LCD.
Crystal Group FORCE Rugged Servers, as well as rugged switches, storage, displays and embedded products are available now and can be seen in booth 517 at TechNet Asia Pacific 2017, October 31 – November 2, at the Hilton Hawaiian Village in Honolulu, Hawaii.
About Crystal Group Inc.
Crystal Group Inc., a technology leader in rugged computer hardware, specializes in the design and manufacture of custom and commercial off-the-shelf (COTS) rugged servers, embedded computing, networking devices, displays, power supplies, and data storage for high reliability in harsh environments. An employee-owned small business founded in 1987, Crystal Group provides the defense, government and industrial markets with in-house customization, engineering, integration, configuration management, product lifecycle planning, warranty, and support services.
Crystal Group products meet or exceed IEEE, IEC, and military standards (MIL-STD-810, 167-1, 461, MIL-S-901); are backed by warranty (5+ year) with in-house support; and are manufactured in the company's Hiawatha, Iowa, USA, facility certified to AS9100C:2009 and ISO 9001:2008 quality management standards.
© 2017 Crystal Group Inc.  All rights reserved. All marks are property of their respective owners. Design and specifications are subject to change.
Contact: Leslie George
Phone:319.200.4040
Email:leslie.george@crystalrugged.com