Crystal Group FORCE™ Rugged Servers
Next-generation Crystal Group Rugged Servers are the new FORCE – Fully Optimized Rugged Computer Equipment – to tackle the toughest workloads in the most challenging environments.  Crystal Group FORCE™ servers provide a whole new level of bandwidth, scalability, flexibility, and security to the field. Crystal Group FORCE rugged rack-mount servers accelerate compute-intensive workloads in today's most demanding applications, including machine learning, sensor fusion, artificial intelligence, unmanned systems, signals intelligence, electronic warfare, and intelligence, surveillance, and reconnaissance (ISR).
Crystal Group FORCE 1U, 2U and 3U servers are offered with single or dual Intel® Xeon® Scalable Processors, each supporting up to 24 cores and 48 PCIe lanes adding significant compute capability. AVX-512 ultra-wide vector processing accelerates repetitive tasks, while the PCH offers high-speed communication, expanded storage capacity, and enhanced security and compression.
Crystal Group's FORCE line is engineered with more standard rugged features and advanced thermal management. The Crystal Group FORCE RS1104L22 can dissipate an unprecedented 280 watts of CPU power with its state-of-the-art liquid cooling. FORCE delivers the most advanced power and brawn to the tactical edge.
Reliability matters. Crystal Group delivers with new FORCE.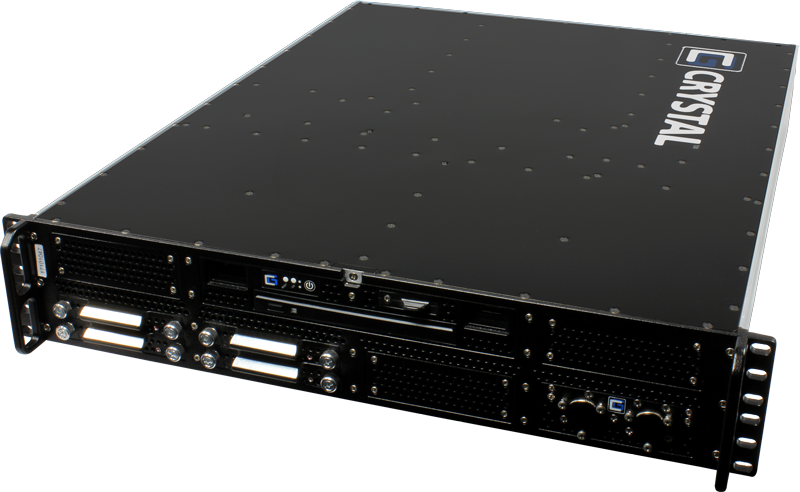 Standard Features
EMI compliance
Chassis intrusion switch
Humidity protection
7, 9.5, 15mm drive capability
Backlit power/reset/UID switch
High-speed, high-volume fans for longer operational life
Lightweight billet aluminum chassis
Up to 1TB DDR4 ECC memory
8-24 core, Intel® Xeon® processors
Optional Features
DVD + 2x USB ports + CMOS battery tray
Dust filter
Liquid cooling
4-Key LCD panel
2x USB 3.0
2x USB 2.0
MIL-CIRC I/O
8-16 port Layer 2+ switch
Audio module
Not Finding What You're Looking For?
We can customize a solution to meet your needs. Contact our knowledgeable sales staff for more information.