Industrial Computers & Electronics Built to Last
Crystal Group is a preferred technology partner across a broad range of industries, and the optimal choice for any project that requires robust, reliable, and rugged solutions.
Crystal Group's off-the-shelf and custom-engineered computer architectures and electronics systems are combat-proven, field-tested, and designed to last – even in the most challenging applications, harsh elements, and extreme environments.
Crystal Group offers a portfolio of installation-ready rugged and industrial servers, displays, networking devices, embedded systems, power supplies, and storage devices to meet your needs – and we can custom-craft a system to meet the requirements of your specific application, program, and project. Learn more about Crystal Group's industry-leading Products and Services, or contact Crystal Group to discuss your particular project needs.
Critical applications rely on Crystal Group's dependable products, services, and support across a growing number of industries, including:
>> Download our Industrial Applications Brochure [PDF]
>> Download our Crystal Current Deployments [PDF]
>> View our Products and Services, including Industrial Servers
>> Contact us for a quote, a custom solution, or more information 
Gain a competitive advantage with Crystal Group
Crystal Group Industrial Servers (IS), benefitting from three decades of experience, provide superior performance in a compact, economical, and environmentally friendly package. Industrial Servers meet emission and military standards, boast a rugged aluminum chassis and state-of-the-art thermal management, and are designed to excel in industrial and commercial applications.
Crystal Group's portfolio of products can be customized, helping deliver a distinct advantage over your competitors. Crystal Group's specialized, in-house design team will help customize your server, as well as provide private labeling and drop shipping to facilitate fast, convenient deployment directly to end customers.
IS100 Industrial 1U Server
Field tested, failsafe and long life performance in extreme conditions. As processing performance continues to improve, Crystal Group is dedicated to minimize the SWaP envelope of the IS100. High-end computing performance in a 1U chassis with a depth of 20" (50.8 cm) fits most any rack space.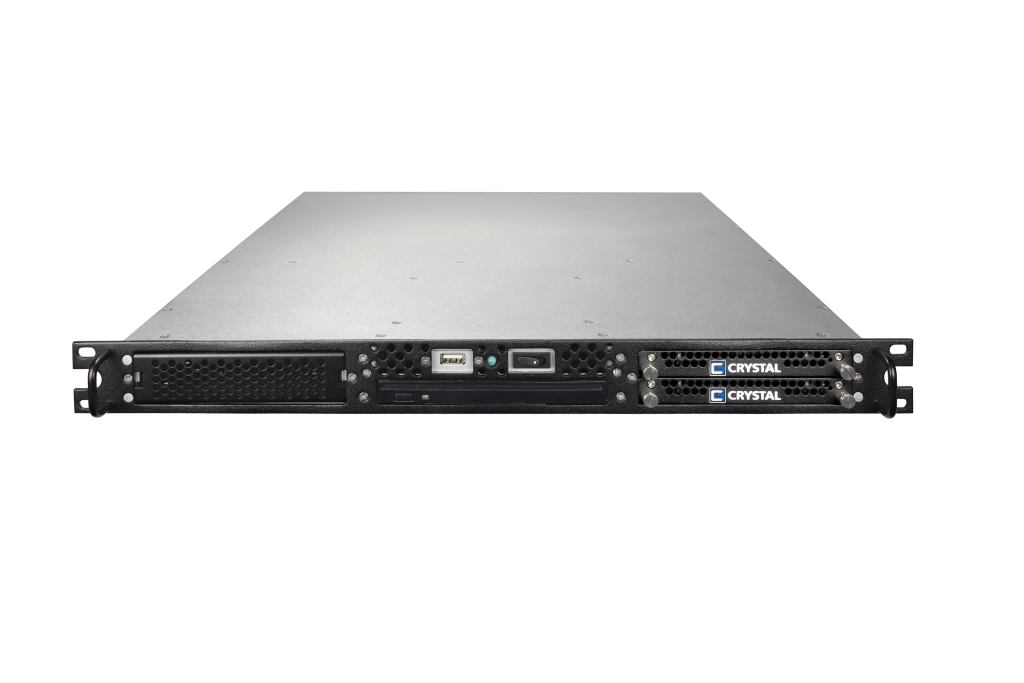 Client Testimonials
"My customer wanted Crystal's product. Was a win-win. Great product and great customer service."
"I have been very impressed with Crystal's customer support."
General Dynamics Mission Systems
"We chose Crystal because you have the best server in the market and outstanding customer service"
Raytheon BBN Technologies
"We build systems that run in the most rugged of environments and require the latest hardware. Crystal is the only place to come when you need both."
"Crystal produces top quality rugged servers and has an excellent track record for customer service."
"Props to Crystal Group for making me a happy customer!"
Sandia National Laboratories
"Crystal stepped up and delivered us several rugged servers when we were in a time crunch as another supplier was not making deliveries on time. Crystal has continually accommodated our last-minute purchase requests and has VERY good customer service."
MDA MacDonald, Dettwiler and Associates Ltd
"Great service, support and you delivered what you promised on time. Your servers have not given us any problems, and we have had them for over two years now."
"Crystal Group makes an exceptional product (s). They are very responsive to the needs of their customers."
"We like the personal responsibility people take. It's refreshing."