Hiawatha, IA, USA, June 16, 2017 – Crystal Group, a leading designer/manufacturer of rugged computer hardware, will showcase industry leading rugged servers, storage, networking and embedded systems for assisted- and self-driving vehicles at the Autonomous Vehicle Technology World EXPO, June 20-22, 2017 at booth AV5015 in Messe Stuttgart, Germany.
Crystal Group manufactures innovative and proven rugged technologies for reliable computing in volatile environments – where traditional off-the-shelf computer hardware cannot withstand the shock, vibrations and extreme temperatures found in a variety of driving conditions.
Crystal Group's rugged computer hardware solutions for autonomous driving systems are designed for vehicle data acquisition and system management associated with self-driving vehicle development, testing, driving and navigation.
Autonomous vehicle system designers and engineers visiting booth AV5015 will see Crystal Group's latest solutions for autonomous passenger cars, trucks, industrial vehicles, buses and coaches – including the:
RE1312 Rugged Embedded Computer features a compact carbon fiber composition construction for low SWaP and powerful Dual or Quad Core i7 CPU options or 6 cores Xeon– D. The RE1312 Rugged Embedded Computer operates over a wide temperature range from -40°C to 60°C and with 18V to 36V DC input. A tough carbon fiber composite frame serves simultaneously as the entire system's structural backbone and EMI shield.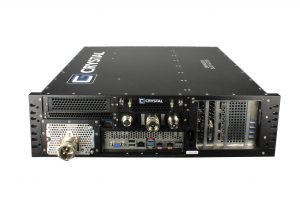 RS363S15F Rugged 3U Server is powered by Intel® processors, and provides high-performance computing and high capacity data storage in a small size, weight, and power (SWaP) package with a depth under 15 inches (38.1 cm) to fit virtually any space. Several major automotive manufacturers have already selected and customized this rugged, safe, and reliable server for use in autonomous vehicles.
About Crystal Group Inc.
Crystal Group Inc., an employee-owned small business located in Hiawatha, Iowa, USA, is a technology innovation leader specializing in both custom and COTS products for defense, government and industrial markets since 1987. Crystal Group designs and manufactures installation-ready rugged servers, displays, networking devices, embedded systems, power supplies and storage devices that fit critical applications in demanding environmental conditions.
The company is certified to quality management standards AS9100C:2009 and ISO 9001:2008.  Crystal Group products meet and exceed MIL-STDs 810, 167-1, 461, MIL-S-901, IEEE and IEC industrial standards. Additionally, the company offers integration services, configuration management, product life-cycle planning and 5+ year warranties.
© 2017 Crystal Group Inc.  All rights reserved. All marks are property of their respective owners. Design and specifications are subject to change.
FOR IMMEDIATE RELEASE
Contact: Leslie George
Phone:319.200.2040
Email:leslie.george@crystalrugged.com